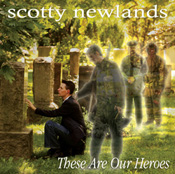 This track entitled "These Are Our Heroes" (or just "Heroes" for short) is an incredibly touching tribute written to honour the brave men and women who serve in our Armed Forces both here and abroad. Their selfless acts of heroism throughout history are what have allowed us to live in peace and experience everything we often take for granted.

This beautiful song was written by Les Kotzer with music and production by Lewis Manne and Wendy Watson. Scotty Newlands was chosen to sing this song and breath life into the inspirational words which Les penned some time ago.

In addition to supporting the troops, this song can be used in any organization to pay homage and thank their members for their service, contribution or meaning in our lives. It can apply to anyone whom we as individuals feel represent our own "heroes".

To all emergency personnel - who put their lives on the line everyday to serve us, protect us, save us and keep us safe - we thank you.
To our many sports icons - who haved inspired so many young athletic hopefuls with their feats of strength and agility and wholesome team ethics - we thank you.
To our own personal "heroes" who have touched our lives in very unique and special ways and helped to shape us as we grow - we thank you.

This song is appropriate for all occasions and certainly will warm anyone's heart after hearing this beautiful melody.

This song epitomizes what we all feel about those people we each hold special to us.

Please enjoy this and think of all those people past and present - who are YOUR heroes...
Releasing: November 11 2010 To purchase the 2-CD package, which includes a DVD of the official music video and corresponding performance video, please click here.
If you would like this song to be sung at your function or organization, please contact us to book a performance.

back

back to music